Christmas gift guide: For her
1 A Peace Treaty Ahtad Ring
For the bohemian beauty
Turquoise and gold together make for a rich, earthy vibe. Handmade and gold-plated, this dashing keystone ring is simple yet refined. $1,200, the9thmuse,12/F, Unit 1204, 1 Lyndhurst Twr, 1 Lyndhurst Tce, Central, 2537 7598; the9thmuse.com.
2 Zephyr Fleeing Dragon silk scarf
Girl with the dragon scarf
The imperial Chinese dragon motif gets a contemporary touch. Printed on super light and soft crepe de chine fabric, this dark, neo-imperial number suits all occasions. And should suit the girl in your life. $1,762, Shop des Createurs; shopdescreateurs.com.
3 Valentino velvet T-bar pumps
Timeless tomboy elegance
Say it with shoes. Say it with these playful, modern pieces, which come in monochrome and have patent leather and velvet on the classic T-bar. Great for the girl who loves elegant, simple styles. $5,990, Valentino, Shop 2070, IFC mall, 8 Finance St, Central, 2234 7193; valentino.com.
4 Jennifer Mak snakeskin clutch
Edgy and seductive
Python and lambskin make for an unexpected pairing. The two textures combine together with delicacy for a cool, exotic statement clutch. $12,675, Jennifer Mak; jennifermak.com.
5 Smythson Mara Fashion Diary
Keeping it organised
Getting organised doesn't have to be boring. This sleek calf leather diary features coloured paper, creating a bright way to plan those hectic days in 2014. $2,330, Smythson, Shop 243, Pacific Place, 88 Queensway, Admiralty, 2918 9100; smythson.com.
6 Anna Sui Cherry earrings
Glam rock chic
In Sui's glam rock signature style, these whimsical earrings add a quirky spark to any everyday outfit. $1,099, I.T, 1 Hysan Ave, Causeway Bay, 2890 7012; ithk.com.
7 Jo Malone Christmas Cracker
Pampering the princess
Give your gal a scented surprise of blackberry and bay cologne, as well as lime, basil and mandarin washes, and grapefruit lotion. Ladies love a bit of pampering! $450, Jo Malone, Shop 137, Pacific Place, 88 Queensway, Admiralty, 2918 4865; jomalone.com.hk.
8 Alice + Olivia Bow Jewelled Phone Case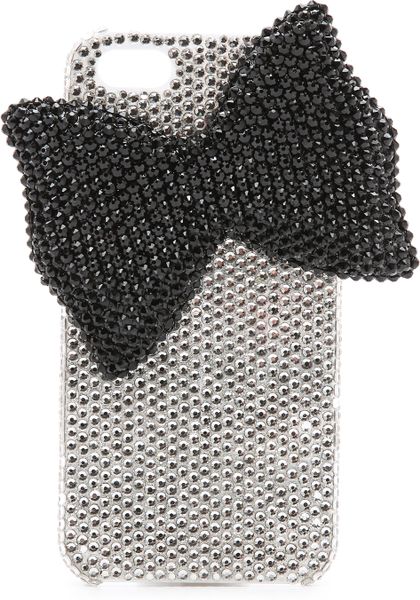 Harajuku bedazzlement
Adorned in crystals, this hard-shell iPhone5/5S case makes a fun, girly, hyper-cute statement. And the sparkle is just right for the holidays. $1,190, Alice + Olivia, Shop 3078B, 3/F, IFC mall, 8 Finance St, Central, 2234 7253; aliceandolivia.com.
9 Timbee Lo Chandelier earrings
Chandeliers for your ears
The funky and fantastical girl is going to love this piece from wildly imaginative local designer Timbee Lo. The earrings are handmade with Swarovski crystals. $786, Timbee Lo, Shop 106, 1/F, Causeway Place, 2-10 Great George St, Causeway Bay, 2803 4444; timbeelo.com.
10 Fossil wristwatch
Understated glamour and elegance
This jewellery-inspired bracelet is delicate yet daring. The brown calf hair strap and gold accents lend a subtly stylish but practical flair to the wrist. $1,350, Fossil, 1 Yee Wo St, Causeway Bay, 2468 2952; fossil.hk.
11 Kenzo Kalifornia bag
The west coast essential
A girl can never have enough bags – especially if they're statement pieces. One of this season's 'it' bags, the red-hot Kalifornia combines LA biker cool with Parisian street-chic. $7,480, Kenzo, Shop 2227, Gateway Arcade, Harbour City, Tsim Sha Tsui,2175 4118; kenzo.com.
12 Tangram bonbon necklace
Design conscious
Intricately crafted from handmade glass beads in dreamy hues of pastel and deep yellow, this is as much an accessory as it is pure art. Which is good, really, as it's been featured in the MOMA shop in New York. $1,200, Shop 101, Matter Matters X Tangram, K11 Select, K11 Art Mall, 18 Hanoi Rd, Tsim Sha Tsui, 3118 8070; tngrm.net.
13 Dior 'My Dior' Ring
One ring to gift them all
Twisted wires resembling golden mesh, woven straw, precious ribbons and ropes interlace to form this cannage (an emblematic motif of the design house) ring. Made from 18 carat pink gold, this is a gift to give that very special lady. $23,000, G06-08, Lee Gardens One, 33 Hysan Ave, 2907 4055; dior.com.
14 American Retro Kim Jacket
Electric avenue
Add an electric blue pop to liven up a tired winter look with this leather panelled blazer. Made from light cotton, this a fashion forward choice for an edgy and stylish lady. $4,309, Tikka Boutique, 18 Gough St, Central, 2884 1111; tikka-botique.com.
15 Rosantica Zampillo Onyx and Quartz necklace
Lavish and lux
Adorn your lady in this luxurious gold-plated necklace detailed with onyx and smoky quartz stones. This handcrafted piece is chic, striking and should leave a long-lasting impression. $4,690, Net-A-Porter; net-a-porter.com.